March 2008 - iParenting's Mommy of the Month
Ovaltine - featured in nine nationwide radio commercials for Ovaltine
TLC, The Today Show, CNN's Showbiz Tonight, the Mike & Juliet Show (Fox), Good Morning America, The Star Jones Show (Court TV), 10!-WCAU (NBC), WB 11, News 12 NJ, NJN, and Dateline NBC (first weight loss challenge).
NJ 101.5 FM Radio - regular news expert for nutrition & fitness stories.
Sirius Satellite Radio - monthly guest spot on The Derek & Romaine show (OutQ) since December '04 www.derekandromaine.com
Contributed chapters on nutrition for NYRRC Complete Book of Running & Fitness and Get FIT NJ.
Nutrition Columnist for NJ Blitz Magazine www.njblitz.com
Spokesperson for LesserEvil Snacks www.lesserevil.com and www.snackcident.com
Featured dietitian on website for Camp Shane, a weight-loss camp for children and adolescents www.campshane.com
Quoted/cited/published in: Health, ABCNews.com, ABC News Hopkins Talk Back, Lancet, NY Daily News, The NY Times, The LA Times, NY Post, Ladies' Home Journal, Prevention, NJ Monthly Magazine, Asbury Park Press, Star Ledger, Courier-Post, Greater Media Newspapers, The News Transcript, the ING NYC Marathon Program, NY Runner, TimeOut NY, Fitness, Oxygen, Runners' World, Teen Vogue, Shape, SELF, Food Arts, the Arizona Republic, Home News Tribune, Men's Health, Outside, BusinessWeek Online, USA Weekend, WebMD, iVillage, and AOL Body.
Dolins KR, Boozer CN ,Stoler F, Bartels M, DeMeersman R, Contento I. Effect of Variable Carbohydrate Intake on Exercise Performance in Female Endurance Athletes. International Journal of Sport Nutrition and Exercise Metabolism. 2003, 13 (4) 1-15.
Touger-Decker R, O-Sullivan-Maillet J, Byham-Gray L, Stoler F. Wellness in the Workplace: A 12-Week Wellness Program in an Academic Health Sciences University. Topics in Clinical Nutrition. 23(3):244-251, July/September 2008.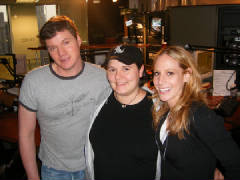 Here I am with Derek & Romaine @ Sirius Satellite Radio.
There is more to come!